After a success with award-winning Photoshape we were thinking how to push this great idea even further. After hours and hours of brainstorming it suddenly struck us. We spent hours every day chatting with our friends on WhatsApp, iMessage, Facebook etc. but what do we have at our disposal? Just boring plain text and few tiny emojis. We knew that we can do better. That we can give users new way to have fun with their friends while they're chatting.
That's what Textshape is all about. Take your message and make it special, make it unforgettable. We took 6 characters and made crazy body fonts with them. You can write your message in plain text and choose a font that fits best to what you want to say. After that you're ready to share it with your friends on Facebook, Twitter, WhatsApp and more.

Speaking about fonts. We would like to introduce you to Amy & Nicole – beautiful girls next door. These aren't just ordinary girls. Sometimes they can be really naughty.
Try TextShape at http://textshap.es!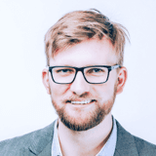 Co-Founder Ackee & CEO Ackee Blockchain
Josef is one of the three co-founders of Ackee, CEO of Ackee Blockchain and doctor of distributed systems at CTU.