Like any technology enthusiast as an obligation during his visit to California is to explore the famous Silicon Valley . Not only that I wonder where they produce products and services that I use every day and hundreds of millions of other people, but since we are dealing in Ackee with our new office , I also took a little inspiration ( haha ) :) .
Firstly, I started my favorite navigation Waze ( in America, Waze is used by many people and navigation works much better than in the Czech Republic ) and I entered the address 1 Infinite Loop Cupertino , which is registered address of Apple . I went through the entire campus. Along the way I came across a few employees who went to work, it should be noted that they weren´t much in a hurry :). Finally, I went to a one and only Apple Store in the world that sells  Apple souvenirs and merchandising .
After selecting the Apple souvenirs to our new office on the Santinka street I headed in the direction of Palo Alto , home of Facebook. That was a little disappointing , because all you could see was a common building outside and a huge parking lot . Facebook really does not show anything on the outside , but if I had to rate the quality of cars in the parking lot of Apple and Facebook, than Facebook has a lot of expensive sports cars around . I was not convinced either by famous street " The Hacker Way" , but maybe that was because I was mad that I didn´t have to " hack " my way inside .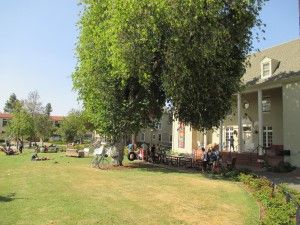 Then I did an academic break and stopped at Stanford , and I consider it the best part of the trip . The University campus is great. Beautiful buildings and great atmosphere that radiates in every step. For one hour I borrowed a bike and ride around the entire campus on it and it was nice to watch all kinds of activities , how hundreds of students spent  their Friday afternoons . With some students I've talked a little and they were all very kind and helpful to a lost stranger :) . The campus is perfectly maintained and the atmosphere is just indescribable !
After a pleasant stop at Stanford , I headed to the last stop and it was the Mountain View to see the Googleplex . Google has really huge campus , each building is a little different , but all in the same style.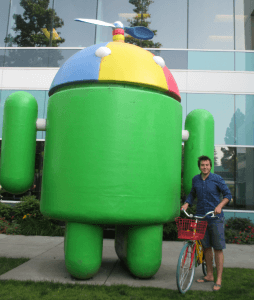 What I consider to be the cool thing is that Google has laid old wheels  all around the campus ( probably worn thin by Ježek brothers , but unlike their Rekol they aren´t pink, but decorated in color of Google logo) . On bycicle you can take a ride anywhere and then laying it down anywhere on campus . The fact that you can take a bike anywhere was acknowledged that I had lent my bike round the corner and went on foot to look around and when I returned the wheel was gone and I had to find another (fortunately there are a lot of them and  they are used for the transporting of employees and visitors). The most interesting throughout the campus are "Android " sculptures depicting the release of version of the mobile system . These statues are very nicely sculpultered and frequently visited by tourists .
If you were going to ever visit this place so here are a few tips Apple store in Cupertino opens up at 10 AM. Do not left "your" Google bike unattended :) . And for the world , do not drive to see Facebook. On the other hand definitely visit Stanford and dedicate  it a few hours of your time ...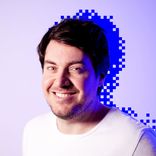 Co-Founder & CTO
Dominik is the Ackee information router. He is an early adopter of technologies and gadgets of any kind. He runs, rides a bike, and drives a cabriolet.